PAVER & HARDSCAPE SERVICES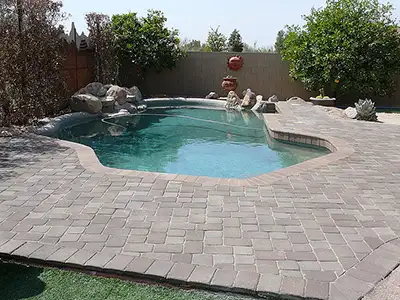 If you're looking for a reliable landscaping company, look no further than PHX Pavers & Landscaping. Our structures combine excellent quality with innovative design to create fabulous outdoor areas. As an established company, we always go the extra mile to satisfy our customers. We provide the best possible combination of dependability, high quality, and competitive pricing, so you know you'll get your money's worth every time you hire us. Whether you need a whole new backyard designed or just a few elements added to an existing one, we can assist. Enhance the beauty of your outside area with the assistance of our business in choosing materials, constructing retaining walls, and placing pavers. Our thorough approach will make your commercial or residential property's exterior functional, durable, and low maintenance. Our expertise extends to designing, building, and maintaining a wide range of water and fire elements. The following are the services we provide to business and residential customers.
Pavers Installation
We are your single destination for all your outdoor renovation needs. We specialize in brick and concrete pavers, patio and deck remodeling, design, and building for any residential or commercial external application. With years of experience in the industry, we are passionate about what we do and constantly strive for excellence. Our team of experts provides the highest level of service to every client, from the initial consultation to the final installation. We take great pride in our work and always stand behind it, offering a warranty from the ground up. Whether you want to upgrade your outdoor living space or enhance your commercial property, we have the knowledge and expertise to do the job right. Our designs are customized to meet each client's unique needs and preferences, ensuring a beautiful and functional result. Our approach ensures you get value for money regardless of the project's shape and size. Read More About Pavers Installation >>
Paver Products
Our customers have access to a wide variety of high-quality masonry materials from which they can create a wide variety of exciting and valuable backyard and outdoor structures. We have natural stone and brick for making natural stone pavers, clay bricks, and interlocking pavers for various outdoor areas. We realize you require high-quality landscaping materials and stones, and we always strive for the best possible finish, durability, and quality. Belgard offers various pavers and outdoor kitchen pavers and components to create one-of-a-kind outdoor settings. We can provide these items and supplies in the quantity you need and transport them to the construction site at your convenience. We assist both business and residential customers in developing beautiful outdoor areas. If you need help deciding between paver products, our staff can help. We offer you the best services and high-quality paver products of the best brands. Read More About Pavers Products >>
Paver Overlay
If you want the best paver overlay services, your search is over. Our patio resurfacing procedure does not demolish the old patio before installing the new one. Thin pavers made of concrete or natural travertine, available in various colors and textures, can be placed over your existing surface. Our experts will evaluate your patio and provide recommendations for a new surface. Whether you have a patio made of cool deck, acrylic, painted, uncovered aggregate, or plain old grey concrete, we recommend a resurfacing solution that will make it seem brand new and complement the rest of your landscaping. You can avoid costly and disruptive demolition by using this technique instead. Let us take your tired patio and make it into a beautiful place to spend time in the sun. Our specialists are here to help you every step of the way. Read More About Pavers Overlays >>
Driveway Pavers
Our business uses only the best materials and follows all of the industry standards while installing driveway pavers. From initial concept and design through material procurement and final assembly, our seasoned staff will see your project from start to finish. We know your driveway is a significant part of your home's curb appeal and functionality. For this reason, we tailor every project to the specific requirements of our clientele. We have several different types and colors of pavers to pick from, so your new driveway will look great with the rest of your home's landscaping. We exclusively use the most cutting-edge methods and tools to guarantee a smooth and long-lasting installation. The driveway paver that we handle is impeccable in every way, and our team works with you to ensure the project's timely completion. We are focused on customer satisfaction and when you hire us for your driveway paver installations, you know you are hiring the best. Read More About Driveway Pavers >>
Paver Installation
We provide unrivaled quality paver installation services. All the work we do is conducted to the highest possible levels of quality and workmanship by our team of skilled experts. To guarantee that our customers get the finest materials, we exclusively utilize products from reputable companies, such as Belgard. Concrete, brick, and natural stone pavers are available in various styles to meet your needs. Since we care about delivering first-rate installations, we spend extra time making sure the groundwork is solid and level. We pay close attention to detail while laying the pavers so that the result is both pleasing and practical. Whether you want to build a beautiful patio, a functional driveway, or a stylish walkway, we have what it takes to get the job done well. Our company is committed to offering our clients value, and we provide customized paver installations that suit their needs and fit their budgets. Read More About Paver Installation >>
Swimming Pool Decks
We are experts in designing decks that will put your pool to its best use. Do you want to build a new pool area or renovate the current one? We have the training and experience to do these duties successfully. We take care of everything, from the first consultation to the last touches on your new pool deck, giving you additional useable areas on your property. We'll work with you to meet your needs and design a pool area where you and your loved ones can relax in style. In a group, they can transform the space around the pool's sundeck into a fantastic gathering spot. We use the finest materials to construct a deck that will endure for many years and wow guests who visit your home by making the most of the outdoors. Our custom-designed decking will surpass your highest expectations in every way and offer you excellent value regardless of the project scope and size. Read More About Swimming Pool Decks >>
Natural Stone
We know the long-standing and practical usage of natural stones like travertine and porphyry in outdoor design. Nothing else on the market can replace the unique properties of these materials and install high-quality natural stone for your outdoor space. We have professionals on staff that can design and install a variety of natural stone elements that will improve the look and utility of your outdoor area. We collaborate closely with our customers to design and build stunning, long-lasting natural stone projects, including patios, walks, retaining walls, and water features. Natural stone has impressive durability, adaptability, and aesthetic appeal, making it the finest option for any outdoor use. Because of our dedication to quality and client happiness, we are confident that your natural stone installation will exceed your expectations. We create the best natural stone installations on our client's properties. Read More About Natural Stone >>
You need skilled and experienced professionals like us if you want great hardscapes. Our company offers the best hardscaping solutions within your budget; you can be sure these features will look great and last long. We are creative, knowledgeable, helpful, and professional, so you get superior solutions and the best customer service. We offer you the ideal balance of reliability and quick access to a range of hardscaping services under a single roof, with all our work covered by warranties. If you want additional information about our hardscaping services, please call (602) 992-0468. You can also write to us using this Online Form, and we will call you right back to answer your queries. If you are planning to start on a project and need a quote, we will send over one of our experts to your site to discuss your project details. PHX Pavers & Landscaping assures you of top-notch quality in every project we handle for you and offers you the value you expect.